Hi everyone and thanks once more for any interest shown in our charity Stepping Stone 2to.
I just wanted to share a little background information on some of the health and wellbeing activities we have been involved with these past months.
If Tra has touched on any of the following previously I apologize, but a little repetition never hurt anyone!
I believe that health and well-being has historically been seen to be the domain of people who were seen to be, "normal"! Consequently, people who were in possession of any complex needs, and under the jurisdiction of a system, or other interested parties, were pretty much prescribed exercise without informed consent.
The activities prescribed were often ill thought out, regimental, and did not take into account an individual's personal preferences, or were led by people who believed that exercise was a complete panacea for all the ills of those who took part.
Given the experiences I have had over 30 years, along with the academic qualifications gained within the field of Social Care/Psychology, I found it to be self- evident that individuals with complex needs were less healthy than their age group peers who did not have any complex needs.
Obviously, that's not to say that some people without complex needs aren't unhealthy, but in my experience a higher percentage of people within the groups of complex needs, are, in my opinion, consistently unhealthy, and this is unacceptable.
This is not a statistical study, (although one is needed in this part of England), but my personal observations, and experiences of working with complex needs over many years.
I believe that people whatever their, race, creed, disability, sexual orientation, or status in society, should be provided with the support, information, and freedom to be healthy in both body and mind. Quite clearly, from the rise in obesity, and the overburdening of our health services, this is not the case.
We as a charity hope to address some of the aforementioned issues for any recipients of our service, through the provision of information on diet, activities which promote physical and mental well-being, and strive to build this into a person's everyday life.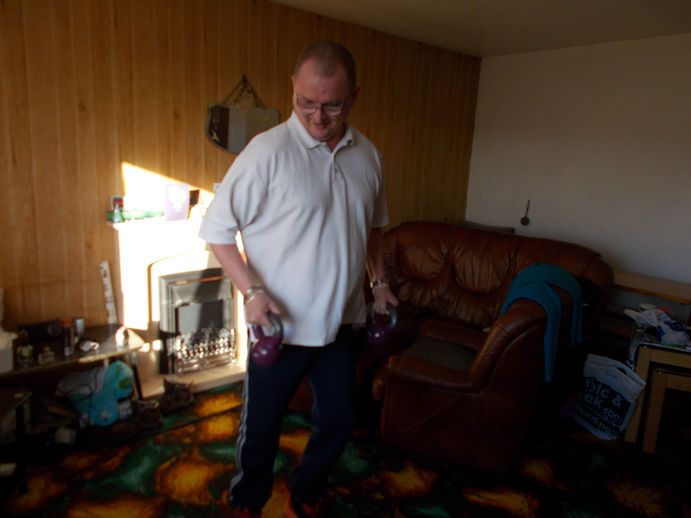 I have, along with Tra and two members of Stepping Stone 2to, begun this very process through weekly exercise sessions at one of their homes. One of these participants has now lost 3 stones in weight is more mobile, flexible, less anxious, and his focus has improved massively.
I have introduced parts of my Karate training into the sessions, partly because it's me, and partly because I believe it allows people to acquire focus, and be in the moment, thereby reducing anxiety, and stress levels.
Tra has found this, along with one of the participants, extremely beneficial in the aforementioned areas. Tra has found her latent fighter within, and has become the kind of warrior I would have loved to have had on my competition team during my Karate years on the circuit!!
A new participant has now joined our group and thus far has made fast progress in only 2 sessions, and I believe he will continue to do so.
I am really enjoying these sessions because for a long time I forgot the Karateka I was and how much Karate was, along with my other sports and interests, such a major part of my life. I am a teacher yes, but a participant also. The future is bright. Be well.